From Data to Action: Promoting Active Lifestyle in Wheelchair Users with Spinal Cord Injury or Amputation (D-ACT-WHEEL)
The D-ACT-WHEEL project is funded under the NWO/SIA/FAPESP Sport Data Science call and is coordinated by Thomas Janssen (VU/READE) in a collaboration with HvA/InHolland (Marije Baart-Deutekom), LIACS (Wessel Kraaij) and UNICAMP/Brazil (prof. Cliquet).
Starting date: 1-5-2017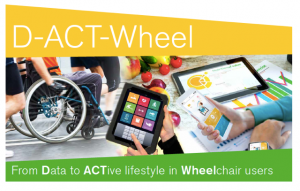 Summary of the project.
Wheelchair users with a spinal cord injury (SCI) or amputation generally lead an inactive lifestyle, associated with reduced fitness and health. Digital interventions and sport and lifestyle applications (E-platforms) may be helpful in achieving a healthy lifestyle. Despite the potential positive effects of E-platforms in the general population, no studies are known investigating the effects for wheelchair users and existing E-platforms can not be used to the same extent and in the same manner by this population due to differences in physiology, body composition, exercise forms and responses, and risk injury. It is, therefore, our aim to adapt an existing E-platform (Virtuagym) within this project by using existing data collections and new data to be collected within the project. To reach this aim we intend to make several relevant databases from our network available for analysis, combine and reanalyze these existing databases to adapt the existing E-platform enabling wheelchair users to use it, evaluate and improve the use of the adapted E-platform, evaluate changes in healthy active lifestyle parameters, fitness, health and quality of life in users of the E-platform (both wheelchair users and general population) and identify determinants of these changes, identify factors affecting transitions from an inactive lifestyle, through an intermediate level, to an athlete level, comparing wheelchair users with the general population, and comparing Dutch with Brazilian individuals. The analysis of large datasets of exercise and fitness data from various types of individuals with and without disabilities, collected over the last years both in the Netherlands and Brazil, is an innovative and potentially fruitful approach. It is expected that the comparison of e.g. wheelchair users in Amsterdam vs. Sao Paulo or recreative athletes vs. elite athletes provides new insight in the factors determining a healthy and active lifestyle.
Links