IEEE 2018 PAMI Mark Everingham prize
The 2018 IEEE Computer Society PAMI Mark Everingham Prize has been awarded jointly to Wessel Kraaij, Alan Smeaton, Paul Over and George Awad for the "TRECVid Video Retrieval Evaluation 2003-2018".
NEW YORK, NY, November 8, 2017—ACM, the Association for Computing Machinery, has named 43 Distinguished Members for outstanding contributions to the field. As a group, the 2017 Distinguished Members are responsible for an extraordinary array of achievements, reflecting the many distinct areas of research and practice in the computing and information technology fields.
ACM Computing reviews Notable Books and Articles 2016
Suzan Verberne, Maya Sappelli, Djoerd Hiemstra, Wessel Kraaij Evaluation and analysis of term scoring methods for term extraction, Information Retrieval Journal 19 (5), 2016.

ACM ICMI 2015 Ten-Year Technical Impact Award
Jean Carletta, Simone Ashby, Sebastien Bourban, Mike Flynn, Mael Guillemot, Thomas Hain, Jaroslav Kadlec, Vasilis Karaiskos, Wessel Kraaij, Melissa Kronenthal, Guillaume Lathoud, Mike Lincoln, Agnes Lisowska, Iain McCowan, Wilfried Post, Dennis Reidsma, Pierre Wellner, "The AMI Meeting Corpus: A Pre-announcement", MLMI 2005.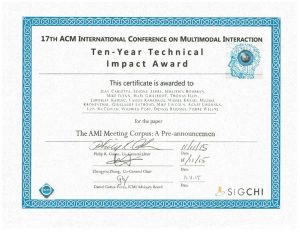 John Wiley Best JASIST Paper (2014)
Suzan Verberne, Maarten van der Heijden, Max Hinne, Maya Sappelli, Saskia Koldijk, Eduard Hoenkamp and Wessel Kraaij
Reliability and Validity of Query Intent Assessments (volume 64, issue 11)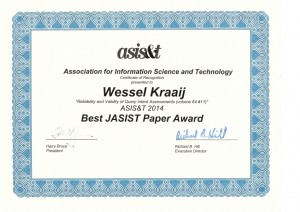 ACM SIGIR 2014 test of time award – honorable mention
Wessel Kraaij, Thijs Westerveld, and Djoerd Hiemstra, "The importance of prior probabilities for entry page search" , ACM SIGIR 2002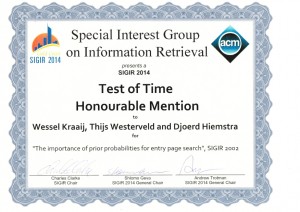 Hersenstichting kwaliteitsprijs 2012
Peter Desain, Wessel Kraaij, Jop van Heesch, Marina Ruiter, Han Donkers, Monique Lindhout, Mia Verschaeve. Een app die helpt bij het zoeken naar een woord, als hulpmiddel voor afasiepatiënten en mensen met spraak- of geheugenproblemen.