Address

Michael Emmerich
LIACS
Faculty for Science
Leiden University
Leiden, NL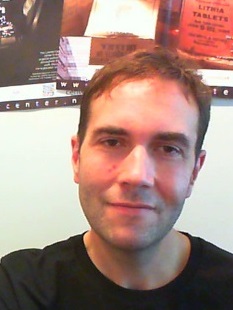 Brief CV:
Click here
Google Profile: Publications and Citations
Together with Iryna Yevseyeva and Alessio Ishizaka I organize a Centeris Special Track on MCDM for Enterprise Information Systems in Portugal. Deadline for paper submission (accepted full papers will be published in Elsevier Procedia Computer Science): April 4, 2016. More info: CLICK HERE
Leiden, February 29th, 2016: 29 Feb 2016 through 4 Mar 2016; Lorentz Center Workshop on Surrogate-Assisted Multi-Criteria Optimization, Boris Naujoks, Michael Emmerich, Tobias Wagner and Dimo Brockhoff (co-organizers), for further info CLICK HERE
Poznan, 2-3 July, 2016: Special Session on Preferences and Problem Formulation in Multicriteria Optimization, European Conference on Operational Research, Posznan 2-3 July (Organizers: Iryna Yevseyeva and Michael Emmerich)
Kristiansand, August 23rd, 2016: 'An Overview of Data Science and Optimization Research at Leiden University', ERCIS Workshop Kristiansand, Norway
Porto, October 7th, 2016: 'Maximizing Consensus in Portfolio Selection in Multicriteria Group Decision Making', MCDM/EIS Track, Conference on ENTERrprise Information Systems 2016, Porto, Portugal
Muenster, March 19-22nd, 2017: 'Indicator-Based Multiobjective and Set-Oriented Optimization', Keynote at EMO 2017 in Münster, Germany CLICK HERE
Brisbane July, 14th, 2017: Maximum Volume Subset Selection for Anchored Boxes, Presentation of paper on 33rd International Symposium on Computational Geometry (SoCG 2017), Brisbane, Australia.
Manchester, August 23rd - August 25th, 2017: Tutorial on Multicriteria Optimization and Decision Analysis in Drug Discovery IEEE International Conference on Computational Intelligence in Bioinformatics and Computational Biology, Manchester, UK
Tijuana, September 25 - September 27th, 2017: Keynote Presentation at International Conference on Numerical and Evolutionary Optimization, Tijuana Mexico. CLICK HERE .
Foundations of Multicriteria Optimization and Complex Systems

Set oriented optimization by numerical and natural computing methods
Theory of indicators and preference models in multicriteria optimization
Complex networks and parameterized computational complexity

Applications of Multicriteria Optimization and Decision Analysis:

Drug Discovery and Chemoinformatics
Sustainable Engineering Design
Scientific Data Management and Databases
Recent projects
Open Problems and Complexity Results in Theoretical Problems in Set-oriented and Indicator Based Optimimization (SIMCO) (together with Dimo Brockhoff, INRIA North, France): CLICK HERE
SAPPAO Dutch India Project: Data Mining and Many-Objective Optimization in Aviation Management (Funding: NWO, Deity, GE)
PROMIMOOC: Process Data Mining and Multiobjective Optimization for Industry
Excellent Buildings via Forefront MDO, Lowest Energy Use, Optimal Spatial and Structural Performance: CLICK HERE
D4N: Data Driven Drug Discovery Network (with LACDR, Leiden University, Leiden Center for Data Science): CLICK HERE
ERCIS: European Centre for Information Systems: CLICK HERE
See also our MODA team webpage: CLICK HERE
Teaching - Year 2016/2017
Bachelor and Master's Thesis: Speaking hours are every Thursday 13:30-16:00.
Complex Networks, co-teaching with Frank den Hollander (Mathematical Institute), Diego Garlaschelli (Lorentz Institute for Theoretical Physics): CLICK HERE
Multiobjective Optimization and Decision Analysis. CLICK HERE
Databases for Computer Science (Leiden, Spring Semester)
Databases for Informatica and Economics (The Hague, Spring Semester)
Studium Generale Complex Networks (with F.d.Hollander (Mathematical Institute and D. Garlaschelli (Theoretical Physics))
Preuniversity College on Informatics for Graphs and Networks
Past Teaching
Studentenseminarium (2012 and 2013)
Databases for Computer Science (Leiden, Spring Semester)
Databases for Informatica and Economics (The Hague, Spring Semester)
Computer Simulation with Applications in Bioinformatics
International society on multicriteria decision making Homepage
Editorial Board member of MIT Journal on Evolutionary Computation
Scientific Reviewer: Algorithms, Applied Energy, Artificial Intelligence, Applied Soft Computing, Computer-Aided Design, Computers and Operations Research, Computational Statistics and Data Analysis, European Journal of Operational Research, Environmental Modelling and Software, Information Sciences, Theoretical Computer Science, Nature Reviews Drug Discovery, Royal Society Interface, IEEE Transactions, Natural Computing, Journal of Machine Learning Reasearch, Multicriteria Decision Analysis
Research Grants: NWO (Netherlands), FWO (Belgium)