Literatuur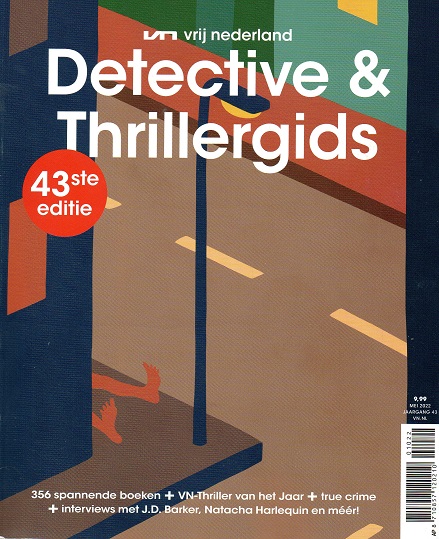 Mike Ashley, The Mammoth encyclopedia of modern crime fiction; Robinson, London, 2002; ISBN 1-84119-287-2 [foto]
Brinkman's Cumulatieve Catalogus.
Maarten Bronkhorst, Moordboeken; Bibliografie van de Nederlandse misdaadroman van 1900 tot 1984, in eigen beheer uitgegeven, oktober 1984 [foto]
Jos van Cann, Moordgids, Reisgids door thrillerland; Maastricht, BASS-produkties, 1992; ISBN 90-800929-1-6 [foto]
Jos van Cann, Moordgids, Het spannende boek in de lage landen; Signature, Utrecht, 2004; ISBN 90-5672-058-9 [foto]
Jos van Cann, De grote crimezone thriller encyclopedie; Crimezone, 2009; ISBN 978-90-475-0749-9 [foto]
Cor Docter, Grossiers in moord en doodslag, Veelschrijvers in Nederland en Vlaanderen; Meulenhoff, 1997; ISBN 90-290-5431-X [foto]
Wim van Eyle, Lexicon Nederlandstalige misdaadauteurs; in eigen beheer uitgegeven, 2008 [foto]
Rosemary Herbert (ed.), The Oxford companion to crime and mystery writing; Oxford University Press, 1999; ISBN 0-19-507239-1 [foto]
[Hofdrop, DeK/kok, Maarten Maarten, de Zwaan Peter, Erdmans, Moord in doo-dslag, Der Lege Spiegel, Leyden, Haase]
H.R.F. Keating, Crime and mystery, The 100 best books; Carroll and Graf Publishing, Inc, New York, 1987; ISBN 0-7867-0366-0 [foto]
Bruce F. Murphy, The encyclopedia of murder and mystery; Palgrave, New York, 1999; ISBN 0-312-29414-X [foto]
Jay Pearsal, Mystery and crime, The New York Public Library book of answers; Simon and Schuster, 1995; ISBN 0-671-87237-0 [foto]
Jan C. Roosendaal, Bert Vuijsje en Chris Rippen, Moorden met woorden, Biblion Uitgeverij, Den Haag, 2000; ISBN 90-5483-229-0 [foto]
Kate Stine (editor), The armchair book of lists, A complete guide to the best mystery, crime and suspense fiction; Otto Penzler Books, New York, 1995 (revised second edition); ISBN 1-883402-98-0 [foto]
Julian Symons, Bloody murder; Papermac, 1992 (third edition); ISBN 0-333-57049-9; Nederlandse vertaling: Moord en doodslag, Spectrum, 1976; ISBN 90-274-5867-7, waarin opgenomen: Jan C. Roosendaal, Misdaad in Holland, Een poging tot inventarisatie [foto] [foto] [foto]
Thrillers & Detectives, 1981-1988; vijf nummers per jaar (in 1981 één; in totaal 36 stuks) [foto]
En uiteraard: Vrij Nederland Detective en Thrillergids, 1980-...